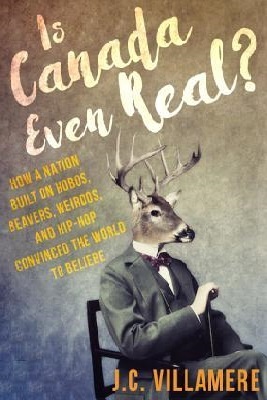 Is Canada Even Real?: How a Nation Built on Hobos, Beavers, Weirdos, and Hip Hop Convinced the World to Beliebe

3 Stars
I saw the title of this book and started laughing immediately.
It was then that I realized that I must read this.
The rest of the book wasn't as laugh-out-loud funny, which is what I was hoping for, but it had some of the strangest fun facts.
Included within: A-lister snowmen, Closet-Canadian celebrities, and a seance held by a Prime Minister to summon the spirit of another Prime Minister.
Is this what you expected from polite, kind, maple-leaf Canada? Probably not. Canada is a strange place, guys, and I didn't know it until I read this book
The book was divided into categories, say Hip-Hop and Mascots, and each chapter in a section highlighted one of Canada's strangest examples of the topic. There would be a few chapters per section, and at the end of each chapter was a quiz.
Now, I am not Canadian, so I had no chance to do well on these quizzes. However, I enjoyed reading the answers to these questions. The answers were shorter fun-facts.
There were a few questions that, though some of the answers seemed too bizarre to even be realistic, I noticed myself seriously considering them.
Canada is so odd, that I wouldn't even be surprised if a Lobster was named Youppi! because it rode an ATV.
If you want to learn more about this seemingly normal country, look no further. If you want your perception of Canada changed (for the better!), then this is still the book for you.
It would make a fun gift for someone, wouldn't it?