I was nominated for the Real Neat Blog Award by Becca, over at Shih Tzu Book Reviews (Thank you Becca).
The rules:
– Thank and link the blogger that nominated you.
– Answer the 7 questions that the nomination has provided you.
– Create 7 questions for your nominees.
– Nominate 7 other bloggers.
Answering questions comes first:
1.  What's your current T.V. obsession?
You've actually caught me at a bad time; I am in between T.V. show crazes. Let's see, I was watching I Love Lucy a fair amount recently.
And right before that was Happy Days: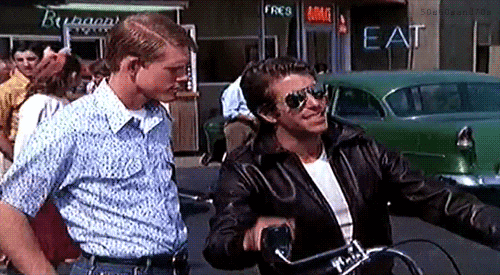 2.  If you could direct a movie of your own life, who would you cast to play you?
Because this question is essentially a fantasy world in which I can hire whoever I wish,  I would choose either Lauren Bacall:
or Grace Kelly:
3.  What's your go-to happy song?
To be perfectly honest I almost feel like laughing because of what this post is looking like so far.
A happy song for me changes. It is essentially whatever my favorite song is at that time. At the moment I am listening to a lot of Peggy Lee and Stray Cats.
4.  Which author's brain would you like to borrow for a day?
Edgar Allan Poe.
5.  China or Japan?
I really don't have an answer to this.If I'm just going to visit and disregarding politics and country problems, I'm going to say Japan.
6.  Which book would you save in an apocalypse?
At first I was going to choose Jane Eyre, because it is my second favorite book, longer than my favorite (Wuthering Heights) and I would enjoy reading it over and over again. But then I realized that that was not a logical choice. A collection of books would be more logical, because it counts as one book and offers more reading options. I would bring either a book of the complete Shakespeare, or the complete H.G.Wells. Perhaps a collection of Charlotte Bronte.
7.  What book would you choose to be a T.V. Show?
The Classics are all T.V. Shows already, so I will choose something else. Its a series, but Dragon Slippers by Jessica Day George. 
Now I must come up with 7 of my own questions.
1 .  What is a book that you had to read for school that you actually enjoyed?
2 .  What is the cheesiest movie that you have seen, but still liked?
3 . Do you prefer tea or coffee?
4 . If you could meet any fictional character, who would you choose?
5 . Who is your favorite historical figure?
6 . What is your favorite time period? (This can be anything from the Wild West to the 90's).
7 . What is the longest book you have ever read?
Nominations:
The Disney Freak with a bit of Mascara
I know that is only 5, but nominations are very difficult for me.