4.5 Stars
About the Book
Upstairs in the Anderson's attic there is chatter coming from the Christmas, Easter and Halloween boxes. Someone new has arrived. Tallulah the Christmas Fairy wakes to find herself attached to the top of a tree. She soon makes friends and has a magical first Christmas. Once the festivities are over, Tallulah finds herself in the attic with the other decorations from Easter and Halloween. Each year they watch the seasons change as they wait excitedly for their turn to go downstairs. Until one day new boxes appear and then the unthinkable happens.
My Review
I received a copy from NetGalley in exchange for an honest review.
It's time for Christmas books and Christmas movies once again!
This was a very sweet short story.
I enjoyed the concept, is a rather bittersweet one; toys, and in this case holiday decorations, that have a self-awareness and a mind of their own. The toys in this group are played with less and less, until eventually they are packed away. The holiday decorations, however, are taken out once every year.
I really enjoyed 'A Fairy Extraordinary Christmas Story'. I thought that it was bittersweet in parts; such as when the decorations are all packed into the attic for 11 months until they can be once more taken out to decorate for their holiday.
Throughout the story you get to hear the character's interaction with each other, and by reading their conversations you learn what is changing in the household, whether the children move away, or why the house is standing empty.
I enjoyed the large cast of characters, and I really was interested to see what was going to happen next.
The story ended with a large party, of sorts, and this was my favorite part. I was smiling the whole time, and the confusion of the family when they discovered that all of their holiday decorations had been unpacked and used to decorate their home had me laughing.
I highly recommend this to everybody, it will certainly help you get into the Christmas spirit and leave you smiling.
Interview with A.J. York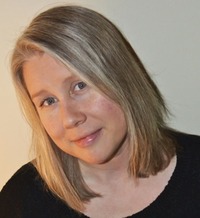 1. What sparked your love of reading and writing?
I used to read more theatre scripts than books. It is a lot fun reading lines and making them come alive. Then I turned to creating my own plots, characters and lines. When I came up with the character Delilah Dusticle I wasn't working in a theatre or part of any drama group. I had to find another way of telling her story, so I wrote it down and made it into a book.
2. When did you decide to be an author?
I have never harboured a wish to be an author. I am actually quite shocked with myself that I have published stories. After I had written the first Delilah Dusticle story I started to think about what I was going to do with it. That is when I started to research into publishing and then finally how to market a book. I thought I would take a risk and put my short story out there, just see what happened. Luckily, I had some lovely feedback, which has encouraged me to write more.  
3. Your ideas are so original! How do you come up with them?
Thanks for the compliment! I have to admit my cheeks have gone red now.  I seem to get my ideas from the everyday, the things that we perhaps overlook. I came up with Delilah Dusticle while cleaning some shelves. I was getting dust everywhere and just started to imagine a maid with super cleaning powers. My Christmas story came to me while I was bringing down my Mum's Christmas decorations from her attic.
4. Have you ever traveled abroad? If so, what was your favorite place?
I am from England and currently live in Sweden. I have definitely made the most of being in Scandinavia and have visited neighbouring Denmark, Norway and Finland. Aside from Europe, I did take a year out to travel on my own. It was a bit scary and I went to Japan, Australia, New Zealand and Singapore. I had a work visa for Australia and worked in the bar at the Sydney Opera House. I worked the Mayor's party on News Year Eve and had a great view of the Sydney Harbour Bridge firework display.
I think my favourite trip has to be working at a summer theatre camp in the Catskill Mountains, New York. I worked backstage and supported the set designers making scenery. Sometimes we would work all night to get the sets ready. Then we would be woken early in the morning by a rehearsal. Usually a song from Annie. It was a lot of work, but I made some great friends and memories.  I also met my partner there. He is the one who does all the illustrations for my books.
5. What is the hardest thing for you about writing?
The hardest thing is making myself sit down to write. Once I do, I then get into a flow. Up until then I will do anything to not sit down and write. I will rearrange my sock draw, make a cake or even clean the windows. I have to be really strict with myself.
6. Do you have any advice for aspiring authors and writers?
I always wince at this question. I still feel like such a novice.  I really do not feel that I am in a position to give advice. There is still so much for me to learn and accomplish. However, I would always encourage anyone interested in writing to give it a go. It can be a lot of fun and really fulfilling.
7. What is your favorite book?
I loved Sophie's World by Jostein Gaarder. It was a great story and brilliant lesson in philosophy. I also have to mention J.K. Rowling's Harry Potter series. I sometime pick up an old copy and read a snippet. I instantly get drawn in. They really are such wonderful stories.
Thanks for hosting me on your blog!