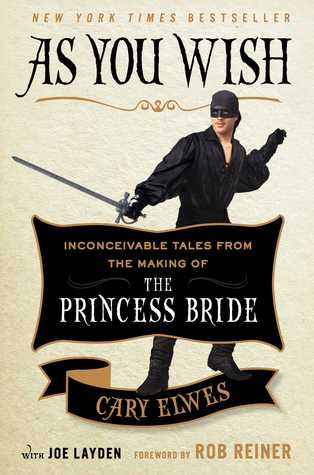 5 Stars
This is a must-read for any Princess Bride fan, whether you're a casual fan or a bit more obsessed. I'd even go so far as to say that this is a must-have.
As You Wish is full of behind the scenes stories from the making of the movie, the problems they ran in to, times that made them laugh, as well as how the reception for the movie was not quite what one would expect.
I couldn't pick a favorite part, each chapter was so good. You get to read about how neither Cary (Westley) nor Mandy (Inigo) got a break from their fencing training. At any spare moment they could be found with a sword in their hands, one again practicing. The plan was for them to be so knowledgeable (not to mention capable) about sword fencing that they could pull off being experts, even to the most trained eye, which was not an easy task.

This book is so full; it's fantastic. Knowing the behind-the-scenes, and the fears the actors had is going to make watching the movie a much different experience, but in a good way.
Apparently, Wally Shawn (Vizzini) was so worried that he was going to be replaced that he ended up with hives.
Replaced?

We don't only get Cary's perspective of the filming; nearly everybody else in the cast contributed their memories,thoughts, and experiences that they had both during the filming and after.
Each person in the cast was exactly what the producers had hoped for, it seemed that there was no other choice. They got everybody that they wanted to be in the film. And it is evident when you watch the movie; I can't imagine anyone else playing these parts.
Just like the actors felt about the movie, I didn't want the book to end. So much so that I read the Acknowledgements, which is not something that I ever do.
If you are reading this review, the chances are that you have actually seen the Princess Bride, and in that case I ask you, what are you waiting for? Take a chance and read this book, you won't regret it.
And to the few of you who have never seen 'The Princess Bride', You are in for an adventure.
If you want more information on the content of the book, I posted a bit more about it.